After a 2 week lull in spring cleaning, my husband and I plowed into
purging/organizing mode
last weekend.
What was
this
:
Went to
this
:
Joyous sighs of relief! This is the doorless closet in Squishy's room (really people, closets are
supposed
to have doors! Not sure who decided that these apartments didn't need them...). We organized his entire room and got rid of a HUGE pile of stuff, including a bulky stroller and carseat. It is now pleasurable to walk into his clean room.
The bathroom also saw improvement...
Before:
After:
The curtain that normally hangs in front of these shelves is temporarily pulled back for the purpose of this demonstration. There is still a ton of stuff in these deep bathroom shelves...these shelves comprise some of our only storage in this house, and they hold everything--bulk cleaning supplies, tools, medicines, towels, toiletries. It's difficult to "prettify" this area, but I did purchase two cloth-lined baskets at Ross (much cheaper than Target or Wal-Mart!), and they help a bit. When all else fails, hang a curtain in front.
Our bedroom was also subjected to purging--especially the closet filled with boxes of books! We got rid of some, and listed the nicer ones on
Half.com
. Have you ever tried to sell unwanted books on half.com? I'm always surprised at how successful it is! We have already made over $80 selling some unneeded textbooks.
Other resources for selling unwanted items:
Ebay:
We listed our
very first
item on ebay after our purging spree, and it just sold! I will say that is was somewhat complicated figuring out how to list my item. But it was worth it.
Craigslist:
Especially nice for big items, such as furniture. We sold our second set of couches and our television on craigslist before we moved.
It's been very nice to clean our house of clutter
and
make some extra money! Definitely worth the effort we put into it.
Do you have a favorite resource for selling your unwanted stuff?
Also among my spring cleaning victories...
I organized my recipe binder
! More on that soon.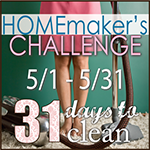 I just won Sarah Mae's ebook,
31 Days To Clean: Having a Martha House the Mary Way
, so I'm excited to go through that, one small task at a time. In fact, there is a
Homemaker's Challenge
starting on May 1st, for those who want to go through the ebook together. I love the focus this ebook has on having a "Mary heart" for our homes.
For
everyday
cleaning, I rely on
my cleaning schedule
based on
Creating Your Perfect Cleaning Schedule
.
Where are you in regards to spring cleaning?
Finished? Half-way? Thinking about tackling it?

Disclaimer: This post contains affiliate links.
Linked to
Homemaking Link-Up
.